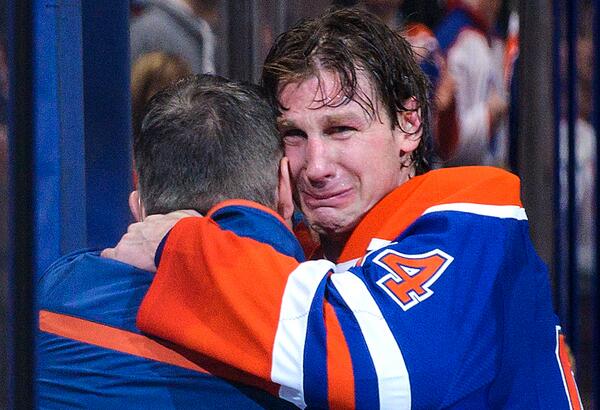 I've been an Oilers fan for a long, long time–longer than I can even remember. In the last two decades or so that I've had memories, I've seen a lot of great players have some great careers, and I've also seen a lot of those great careers end–sometimes with varying levels of sadness on my part. Ryan Smyth is special to just about everyone in this city. I remember being at school when he got traded back in '07… I think I cried for the rest of the day. He's done so much for this city and for this team and I'll be eternally grateful for that.
Now, I'm not going to lie and say that I was happy when he came back for his farewell tour, and I definitely wasn't his biggest fan after that, but that's kind of beside the point right now. Because, well, this post isn't really about Ryan Smyth. (sike!)
In the last couple of years, my priorities have really shifted–as pretty much everyone knows–towards junior hockey. And tonight I had a talk with my best friend (Kelsey, for future reference… I'll probably talk about her a lot) about why this kind of night just isn't as sad for us anymore.
This is our third WHL grad season (March to May, every year) as friends, and it's only gotten harder. There's something about watching junior careers end that just cuts right into me. Yea, of course you have your stars who are leaving the team for bigger and better things, and that's great… but then you have your overagers, and your undrafted 19's, and the uncertainty of whether their competitive careers have just ended.
For me, today isn't a sad day for Ryan Smyth, it's a happy one: the guy had an 18-year NHL career of over 1000 games, it's hard to feel that bad for him. Most players could only dream of a career as long and great as he had. It's hard to be sad for him when you think of a 20-year-old kid going back to the bench and looking up at the score clock only to see that he may have just finished the last shift of his career–and then bursting into tears.
This is a true story, and not a unique one. It happens every year on every team.
It's a tough time of year, watching the guys graduate and knowing that for most of them, a pro career isn't in the cards. It gets lost in the image of major junior hockey sometimes, with this perpetuated idea that this is just a stepping stone to get to the big leagues–and for some guys, it is. But for a lot of guys, even MOST guys, it isn't. They'll look back at these as the glory days; this IS the dream.
I'm not trying to trivialize the sadness that Smytty and his die-hard fans might be feeling right now–it's just how I'm personally feeling, with playoff series ending in the CHL every day it seems. So I'll leave it with this:
Congrats on a great career, Smytty.